Products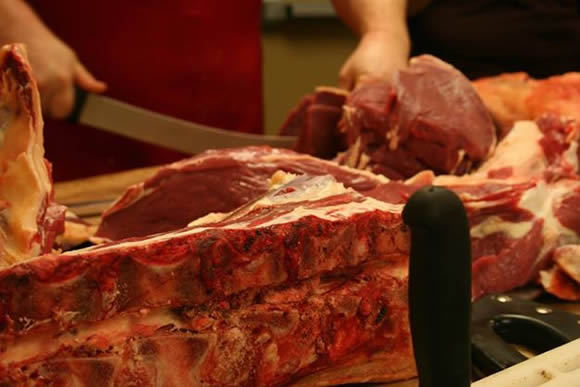 In our retail outlet we offer a variety of fresh cuts of beef, pork, and lamb all processed in our facility and chicken locally sourced. Don't see what you're looking for? Just ask and we'll do our best to get it for you. We believe in whole animal butchery and as such use all parts of the animal so yes, we will have soup bones, fresh liver, marrow bones, etc.
In addition to the meat products, we offer a small selection of locally produced goods from handmade shopping bags to local honey and maple syrup, rubs, soup mix blends, hand-carved cutting boards, and more. These items pair well with our meat products and make great gifts! We also have our own blends of rubs for beef, pork, poultry, and lamb made exclusively for D'Aubin Family Meats.
Community Partners
Our red meat is processed in our facility and available by the side, by the quarter, in variety packs (frozen), or by the individual cut. All the meat is locally sourced and from farms we have personally visited. Animals that come to our place have been well cared for and many are pasture-raised animals. Our chicken currently comes from two sources: we have a limited supply of locally grown whole chicken, frozen and fresh chicken both whole cut up and breasts.
Suppliers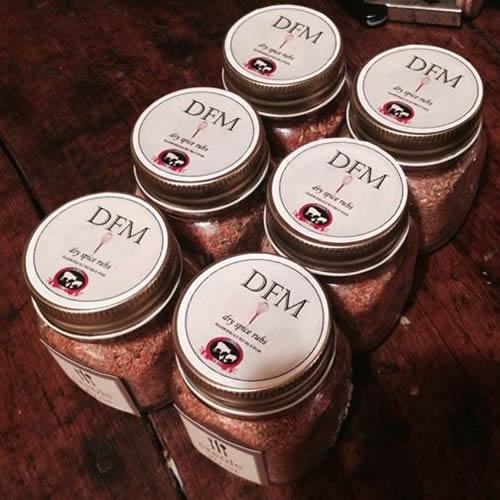 Various vegetables from Sawlers Gardens, Berwick
Mushrooms from Valley Mushroom, Cambridge
Dried beans from Websters Farms, Cambridge
Cheese and Yogurt from Rancher Acres, Aylesford
Coffee from North Mountain Fine Coffees, Berwick
Jimmie Dogs from Meadowbrook Meat Market, Berwick
Vegetables from Mountain River Farms, Torbrook
vegetables from Bayside Farms, Belleisle
Dulse
Spice Blends, Rub That Rubs, Bedford
Freeze dried snacks, Valley Bites, Lawrencetown
Peanut, Cashew, and Almond Butter, Yum Bakery, Windsor
Wild Blueberry Juice, VanDyke's, Caledonia
Certified Free Range Chicken and Eggs, Pelton's Farm, Torbrook
Rye Bread, FOR, Bear River
Baked Goods, Ellen Haley, Bridgetown
Pretzel Buns, Whisk & Thistle Bakery, Bridgetown
Flour and Pancake Mix from Valley Flax Flour in Middleton
Assorted dressings from Vincent Dressings in Yarmouth
Pepperoni and Beef Jerky from Canning Village Meat Market
Milk and assorted cheeses from Foxhill Cheese House
Nona's Preserves (vinegars, chutney, relish, jams and jellies)
Nova Nectar Apiaries (honey, also the honey we use in our honey garlic sausage)
Warren's Maple Syrup (maple syrup, also the syrup we use in our maple sausage)
Pumpkin Moon Spice (soup mixes)
Holmestead Cheese (yogurt, feta, and ricotta cheese all produced locally)
Doe-T-Go (ready to make) pie crust
Oakhaven Organic Bakery (freshly baked bread)